HR Blowers Developing the Engineers of Tomorrow
HR Blowers are pleased to announce that one of our engineering apprentices, Adam Gillings has won the "Knowledge Award" at Appris – Engineering Training Centre.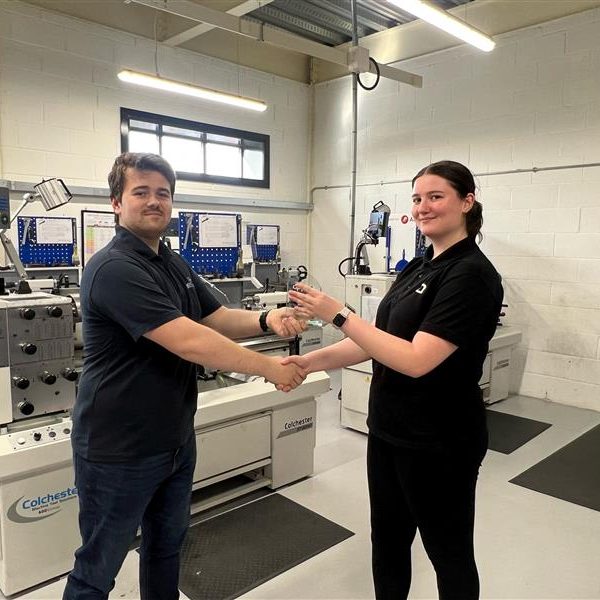 Martin Adams, Managing Director, HR Blowers UK Ltd comments "We firmly believe in developing the next generation of engineers by fully supporting our apprentice engineers.  Training is at the heart of this support and congratulate Adam on his achievement of this fully deserved award".
Adam is proudly pictured receiving his "Knowledge Award" from Cara Kelly of Appris.
About HR Blowers UK Ltd
HR Blowers UK Ltd is a leading manufacturer of industrial blowers. Based in Holmfirth, Yorkshire, HR Blowers services customers around the world, working across a range of industries.
About Appris
Appris Charity is a not-for-profit, registered charity. It was established in 1967 as a Group Training Association (GTA) that continues to be governed by engineering employers today.  Appris Management Limited is a wholly owned subsidiary of Appris Charity Limited. Appris specialise in the delivery of a range of apprenticeship standards that meet the needs of the region's strategic objectives and skills agenda. With over 200 member companies and 500+ apprentices across West Yorkshire, Appris is the provider of choice for the engineering industry.
Further Information
Want to know about the HR Blowers range of UK manufactured roots type blowers & vacuum pumps or the range of Howden blowers now available click here. To discuss your requirements, call our sales team today on the following:
UK Enquiries – 01484 691858
Overseas Enquiries – +44 1484 691858