Howden Dresser EASYAIR Factory Blower Package System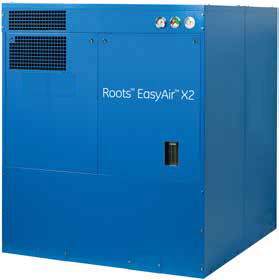 HR Blowers can supply the Howden Dresser EASYAIR X2 Factory Blower Package System. This model is an improved design based upon the popular EASYAIR 8000 package. The EASYAIR X2 system provides performance engineering in a standard package. It is produced for vacuum or pressure applications, enabling simple, on-site installation.
• Overall size is smaller than the EASYAIR 8000 package and the side-to-side size accommodates more packages in a given area.
• No electric fan hook-up required as the fan is mounted on the blower shaft and driven technically resulting in superior cooling.
• Patented automatic belt tension system that optimises performance and extends belt life.
• Panel-mounted gauges (inlet filter differential, blower exhaust temperature and pressure) and external oil level view for easy monitoring.
• Up to 22dBA free field noise attenuation.