Truck, Trailer and Vehicle Mounted Roots Blowers (Holmes RBTM)
The 'Original' Holmes Truck Blower
Looking to replace or upgrade your current vehicle mounted roots type blower? HR Blowers are a worldwide leader in the manufacture and supply of truck, trailer and vehicle mounted blower solutions. Whether you are pneumatically loading or unloading material such as cement, bulk chemicals, flour or other powders, foods, granules or pellets, our direct mounted mobile blowers provide both the efficiency and peace of mind your vehicle fleet should demand.
UK Manufactured & Quality Assured
Known across the globe for our quality industrial blowers, compressors and vacuum pumps, our bi-lobe Holmes HRBV & Holmes RBTM range have a similar construction to our standard HR blower range, with the same efficient performance and excellent reliability. However, they differ with specially designed headplates to deal with the rigors of the road and adapted cylinders for easy mounting whilst utilizing installation space.
Vehicle Mounted Blowers with Total Flexibility
Designed with flexibility in mind, the HR vehicle direct mounted blower range can be adapted for either horizontal or vertical airflow, driven either in a clockwise or anti-clockwise and are adept at generating a pressure or vacuum output. With our compact & versatile design, our blowers can also be mounted on either your truck tractor unit or trailer.  This adaptable approach means our truck & trailer mounted roots blowers are up to the challenge of even the most arduous dry bulk transfer materials application.
Simple Installation with Vehicle, Truck & Trailer Universal Mounting Kit Options
HR Blowers also offer a universal mounting kit meaning that our mobile roots blower compressor range is compatible with most existing dry bulk vehicle, truck or trailer blower set ups.  Our all in one kit includes inlet air filter silencer, discharge silencer, connectors, pressure gauge, relief valves and that all-important, truck blower mounting bracket.
Vehicle Mounted Blowers with Power, Efficiency & Reliability
HR Blowers designed this range of Holmes HRBV & RBTM bi-lobe roots type positive displacement blowers for direct truck-mounting, offering effortless portability without sacrificing their proven reliable design. Our vehicle mounted blowers are offered in three sizes, each one targeting a different application:
HRBV / Holmes RBT M 68 Blower provides optimal conveying of material in a 4 Inch pipe up to 1200 mBarG, for a minimum material transfer of 8.3 tonnes/hour.
HRBV / Holmes RBT M 610 Blower provides optimal conveying of material in a 5 inch pipe up to 900 mBarG for a minimum material transfer of 10.2 tonnes/hour.
HRBV / Holmes RBT M 613 Blower provides optimal conveying of material in a 6 inch pipe up to 700 mBarG for a minimum material transfer of 15.5 tonnes/hour.
Capacities range from 220m3 to 2300m3 with the blowers reaching pressures of up to 1240 mbar, and vacuums to 475 mbar. These units are perfect for dry bulk conveying of powders and animal feeds, positive pressure operation, vacuum operation, and pneumatic conveying.
For further information & technical specification, click to download the HR Blowers Vehicle, Truck & Trailer Mounted Blowers Data Sheet. Alternatively, why not call us today on +441484 691858 and speak to one of our highly trained engineers.
HRBV / Holmes RBT Blower Servicing, Spare Parts and Repairs
For decades, HR Blowers have supplied quality truck mounted blowers to transport system companies worldwide.
Does your vehicle or rig have one of our truck / lorry mounted blowers?

Is time to service your HRBV / Holmes RBT M vehicle mounted blowers?

Do you need a repair or are looking for spare parts?
Our technical team are on call to discuss your serving & repair needs, call us on +441484 691858 or alternatively use our online contact us form and we will call you back.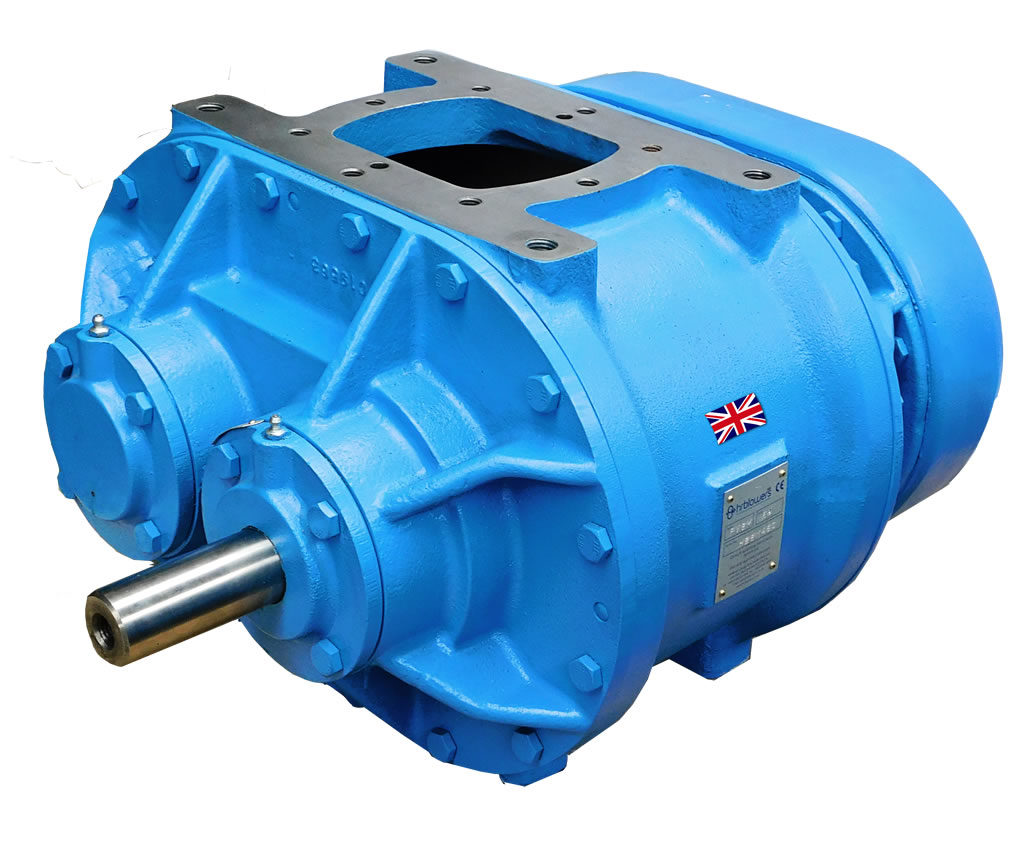 Standard grease-oil lubricated HRBV (RBTM)
Design Features
The conservative load carrying capacity of the larger diameter bearings ensures an extended operating life. Timing gear life is also extended by a controlled lubrication system.
The computer calculated impeller profiles ensure maximum volumetric efficiency with minimum absorbed power without sacrificing torsional rigidity. The high rigidity of the impeller and generous shaft diameter keeps stresses low.
Gear and shaft strength is substantially increased by the use of slow taper mounted gears which do not need keyways for location. This also simplifies the setting of the gear wheels to obtain correct timing of the impellers, a feature that facilitates field maintenance.
Precision ground and hardened steel gears are used to ensure smooth running and accurate timing of the rotating impellers. Specially designed rotary oil seals are used in the gearcase.
This feature eliminates maintenance associated with the use of lip seals. This range can now be supplied with oil lubricant at the drive end as well as the gear end and thus helps to simplify maintenance.
This feature is particularly attractive where the blower is used in high ambient temperature conditions.
Design and manufacture is in accordance with metric standards.
Specification
CASING: The cylinder and headplates are manufactured from cast iron. The gearcase is manufactured from aluminium.
IMPELLERS AND SHAFTS: The impellers are made from SG iron, and cast with integral shafts. The shaft diameter of machines in the HRBV (RBTM) Blowers range is larger than that of earlier designs, enabling increased operating pressures to be achieved without increasing blower size. GEARS: The precision ground and hardened steel spur gears are taper mounted onto the impeller shafts. The timing of the impellers relative to each other is accurately maintained at all times.
BEARINGS: The bearings are of generous proportions to give long operational life. Grease or Oil lubricated double row ball bearings are used at the drive end of the blower. In addition to their normal duty of carrying radial loads associated with the differential air pressure on the rotating impellers, the ball bearings provide axial location of the impellers. Parallel roller bearings at the gear end are splash lubricated by oil from the gears.
LUBRICATION: Our design of controlled gear wheel lubrication enables the gears to operate at a high pitch line velocity without the need for an oil pump. Simple, maintenance free oil throwers fitted behind each bearing in the gearcase prevent leakage of oil. The drive end is grease lubricated but oil lubricant is now available making the unit all oil lubricated and eliminating grease requirements.
DIRECTION OF ROTATION: Standard machines have a right hand drive shaft for vertical air flow, and a bottom drive shaft for horizontal air flow. If machines are required with a left hand or top drive shaft, all that needs to be done is turn the gearcase and trough through 180º.
RBTM/HRBV 68 Vehicle Blower
| | | | | |
| --- | --- | --- | --- | --- |
| | 500mb | 700mb | 900mb | 1100mb |
| Speed RPM | m3/hr | m3/hr | m3/hr | m3/hr |
| 1200 | 520 | 480 | 450 | – |
| 1400 | 640 | 600 | 570 | 510 |
| 1600 | 750 | 710 | 680 | 620 |
| 1800 | 880 | 840 | 810 | 750 |
| 2000 | 980 | 940 | 910 | 850 |
| 2200 | 1110 | 1070 | 1040 | 980 |
| 2400 | 1220 | 1180 | 1150 | 1090 |
RBTM/HRBV 610 Vehicle Blower
| | | | | |
| --- | --- | --- | --- | --- |
| | 400mb | 550mb | 700mb | 900mb |
| Speed RPM | m3/hr | m3/hr | m3/hr | m3/hr |
| 1200 | 640 | 620 | 590 | 560 |
| 1400 | 820 | 800 | 770 | 740 |
| 1600 | 1000 | 980 | 950 | 920 |
| 1800 | 1180 | 1150 | 1120 | 1090 |
| 2000 | 1340 | 1310 | 1280 | 1250 |
| 2200 | 1480 | 1450 | 1420 | 1390 |
| 2400 | 1620 | 1590 | 1560 | 1530 |
RBTM/HRBV 613 Vehicle Blower
| | | | | |
| --- | --- | --- | --- | --- |
| | 300mb | 500mb | 700mb | |
| Speed RPM | m3/hr | m3/hr | m3/hr | |
| 1200 | 980 | 900 | 800 | |
| 1400 | 1200 | 1120 | 1030 | |
| 1600 | 1400 | 1320 | 1230 | |
| 1800 | 1610 | 1530 | 1440 | |
| 2000 | 1820 | 1740 | 1650 | |
| 2200 | 2040 | 1960 | 1870 | |
| 2400 | 2240 | 2160 | 2070 | |